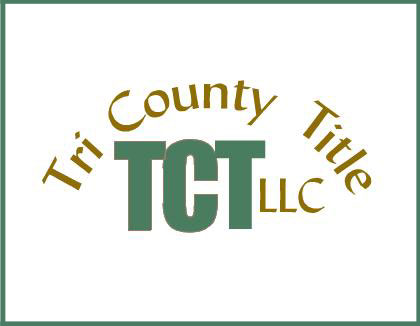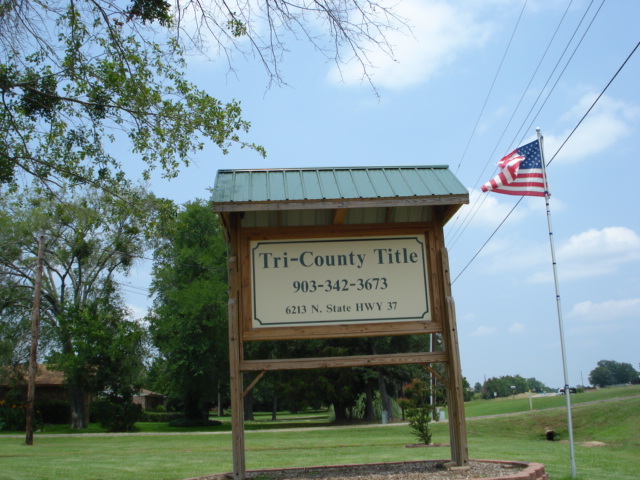 Tri-County Title, LLC

PO Box 1340
6213 N. State HWY 37
Winnsboro, TX 75494
903-342-3673
903-342-0600 fax




We appreciate your visiting our website. Tri-County Title, LLC is a locally-owned and operated title company, specializing in Wood, Franklin, Hopkins and surrounding counties. We are dedicated to providing fast, friendly, efficient and personalized service for all your real estate needs. Our goal is to always meet and strive to exceed our customers' expectations.

If we haven't been of service to you before, we look forward to working with you in the future.

This area is unique in many ways and we want to make your
sale or purchase of our glorious East Texas
real estate as smooth as possible.
To choose the title company that's best for your needs, you need to understand what a title company does.

First of all, a title company is an insurance company that protects the buyer or the lender against the claims someone else may make against the property.

Most of your title premium is spent before you ever close.

We search the title plant, which is a record of all real estate transactions filed in the county, for any document related to the history of your property.

This would include transfers of ownership, heirship information and various types of liens filed against the property, etc.

Based on the examination of those documents, we will issue a commitment to issue a title policy.
Tri-County Title is also responsible for handling the funds in the transaction.

For example, we deposit and hold your earnest money, your loan proceeds, payoffs for the seller's loan, and the closing funds.

We prepare the documents for closing, order any documents that need to be prepared by an attorney or by the lender, collect information on taxes due or payoffs, and conduct the closing with the buyer and seller.

Then we accurately disburse the funds according to the instructions we have and the laws of the state of
Texas
.
Title insurance premiums are set and regulated by the Texas Commissioner of Insurance, so this fee will be the same at any title company you choose. Most other fees you will pay are simply pass-throughs of actual fees we will pay, such as tax certificates and recording fees. The only fee that is not regulated is the escrow fee, which we earn for all the duties outlined above and more.